LUNCH: NOW KNOWN AS BRUNCH
LUNCH
NOW KNOWN AS BRUNCH
As experts continue to debate over how the world will be changed by the pandemic with their predictions for the new normal, chef Mariana throws her hat into the ring with a brazen new proposition – weekday lunch at The Butcher's Wife is now replaced by brunch, all week long.
Already famous for their weekend brunches where the lack of gluten has no bearing on the myriad of options and flavours that she affords the menu, with each component of every dish—from ketchup made out of fermented beetroot to jambu turned into jam—made thoughtfully from scratch, weekdays and weekends at Tiong Bahru will soon blend into a sleepy blur. "Since the circuit breaker ended we've been seeing a lot more of our neighbours who were brunch regulars swing by on the weekday for lunch due to work-from-home arrangements. Since our previous set lunches were built around dishes I wanted to trial for the a la carte menu, and we've since developed a fully realised menu I'm proud to call my own, I figured we'd let them enjoy their weekend ritual, on weekdays, even if just for a few hours a day," explains chef Mariana on her decision to make brunch a week-long affair.
Brunch classics come in some of chef Mariana's favourite flavours – from a coconut and lime sambal that adds an unexpected tropical touch of spice to the Beetroot and Spices Cured Salmon (S$24) served with crushed avocado toast; to brunch mainstay Full Breakfast from the Butcher (S$29) gone full Brazilian with sides like manioc rosti and white bean salsa.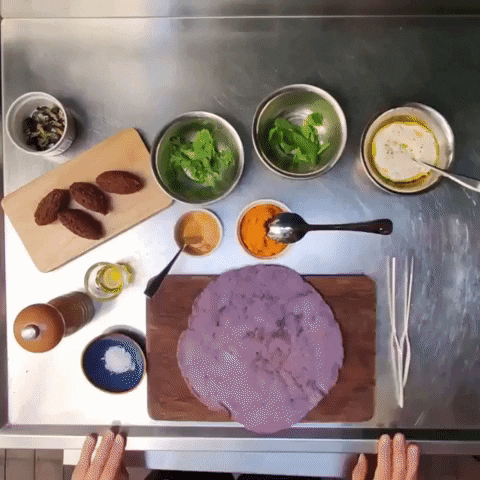 Others draw on a hodgepodge of her favourite culinary influences around the world. Our Brioche French Toast (S$17) features gluten-free brioche from the in-house bakery sweetened with dates puree bringing a Middle Eastern touch; jam made out of jambu (otherwise known as rose apples) reminiscent of a traditional fruit from her hometown and, along with cinnamon whipped cream and roasted almonds, flavours of a classic French apple tart; and goji berries, a medicinal fruit originating from Asia that's reputed as one of the hottest superfoods across the Brazilian Amazon. Blue Pea Flower Naan Sandwich (S$20) was created during the circuit breaker as a fun, unique midday treat for coeliacs and vegetarians who didn't have a lot of options. Melding Middle Eastern influences with native staples from her hometown and beyond, she uses fermented black beans to create a lighter, fluffier falafel patty and blends hummus out of red lentils, together with roasted carrots for sweetness and coriander seeds and cumin for spice. House-made yoghurt and green mango chilli sauce bring a kick of sourness, while fresh mint and coriander keep things fresh and crisp. All wrapped in a gluten-free naan—a rarity in itself—that is turned a vibrant shade of blue with dye extracted from blue pea flower.